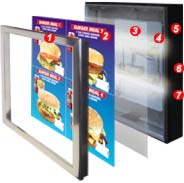 Frame (Aluminium)
Digital Print
PVC Print Backing
Lighting Assembly
Connecting Holes
Power Cable Slot
Patented Aluminium Case
Through experience, we have learned that customers today expect not only to taste good food but also to be shown what's on offer beforehand.
Visual communication coupled with their own sense of smell makes them feel even hungrier .. hence "People today buy with their eyes."
Within the fast food industry, we are the European leader in the design and manufacture of modular menu display systems.
With our Dan-a-Menu systems, we specialise in seeing projects from conception, through design, photography and print to completion.
Designed for their flexibility, our systems will suit your exact needs and include everything you need for a complete point-of-purchase display system with just one order.
Winning Features
High degree of flexibility
Wide choice of styles, colours & sizes
Solid Aluminium or Dibond construction
Highly illuminated display systems
Wall fitted, ceiling suspended or free-standing
Menu slats, transparencies and prices are fully interchangeable
Easy Menu item updating
Easily Changeable prices & product items
Competitively priced
Made to measure or chose standard off the shelf sizes
Totally tool free access
Simple Plug & Play Installation
Buy direct from the manufacturer
UK′s Premier food Image Library
Alternative Menubox Uses - Suspended Menu System Units
1: Using wing bolts join the boxes together to form one strong body.
2: With the supplied cable connectors, connect the boxes together.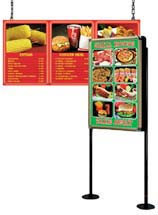 3: Using chain and hooks suspend the menu system.
4: Connect the electrical power supply to the mains.
5: Push the frames into spring grooves to clip them.
Floor Stand Fitting
By using the nuts and bolts supplied, any sized menu can be attached to either free standing or fixed floor stand. Each of these are constructed from steel and are finished in black paint.